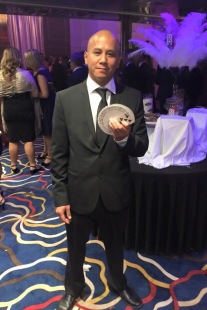 Welcome to NLMAGIC

This is the official website of magician Nick Lennartsson. You are invited to experience an extraordinary sleight of hand. Nico's specialty is card magic and his repertoire extends across complicated gambling techniques, cups-and-balls and 'con' magic. Nico is able to perform magic suitable for both children and adults. Magic can be performed as a show on stage or with a smaller audience as mingle-magic or close-up shows. This page contains information about the type of shows that Nico is offering.

Nick has been performing all over the world in big cities such as New York, Las Vegas, Los Angeles, London, Phonix, Macedonia and Bangkok.

A sample of Niklas' performing is available as a TEDxTalk.
"Thanks for a magic evening in Sävedalen. We are a number of bridge players, used to handle cards, and we checked you closely, but you showed an abilty to treat your cards far beyond what we considered possible. All magic you demonstrated was exceedingly professional, and we experienced an evening to remember for the rest of our lives."

Regards from Göran Sellden
Manager Sigma

---
"One of the best magicians and card experts in the world . Niklas is professional in he´s work thanks for a great jobb"

Martin Clemensson
Event & Sales
Casino Cosmopol

---
"Thanks Niklas for an unforgettable performance! It was extremely appreciated by guests as well as staff."

Björn Falk
Manager Appolonia Casino

---
"Niklas is amazing with his cards if this guy play his cards right, we see him soon on the big scenes"

Claes_johan Larsson
Initiativ Ab Globen